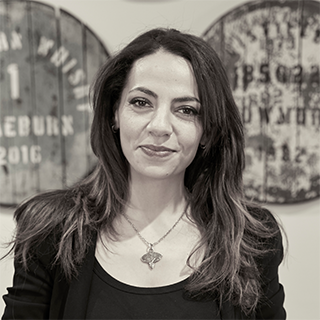 Samantha De Noia
Business Development Manager (Europe & Latam)
Samantha was born in Italy where she was introduced at a very young to the magic of spirit making by her grandfather, creator of a locally famous grappa. She then brought that passion to Spain, where she took her first steps in hospitality management, completing her education inspirits, wines, and mixology. There, she was given the opportunity to become the brand ambassador for Gordon Macphail, a brand developer for other luxury spirits and a whisky trainer for professionals.
She moved to the UK in 2014 and started working for companies like The Whisky Shop and Douglas Laing, making real her dream of literally getting lost for a year in Scotland while walking, hiking and visiting distilleries. In Scotland, she completed The Whisky Ambassador course, the WSET level in Spirits and trained at Glenfiddich, Benromach and Glenmorangie.
After several experiences in Ireland, Portugal, Holland and Switzerland, she decided to return to Spain where shefounded 9 Smoking Barrels, a creative whisky agency. She is now bringing that same energy, expertise and passion to Braeburn whisky.
When she's not working, and sometimes when she is, she is partial to a smoky single malt, with a Caol Ila 30 being one of her favourites.