The investment priorities of millennials have been shaped by an ever-changing environment, from the launch of the Internet, to the 2008 financial crisis and the current situation brought on by the pandemic.
This could explain their preference for tangible assets and property, which are generally considered more stable investment options during periods of economic uncertainty. A recent Braeburn Whisky survey of nearly 2000 respondents found that the majority of millennials favoured investments in real estate and whisky, with 36% saying that stability and performance were the most important things to consider when choosing an investment.
On the face of it, real estate and whisky casks are two very different kinds of investment options. So what makes them both so appealing to new-generation investors?
Supply versus demand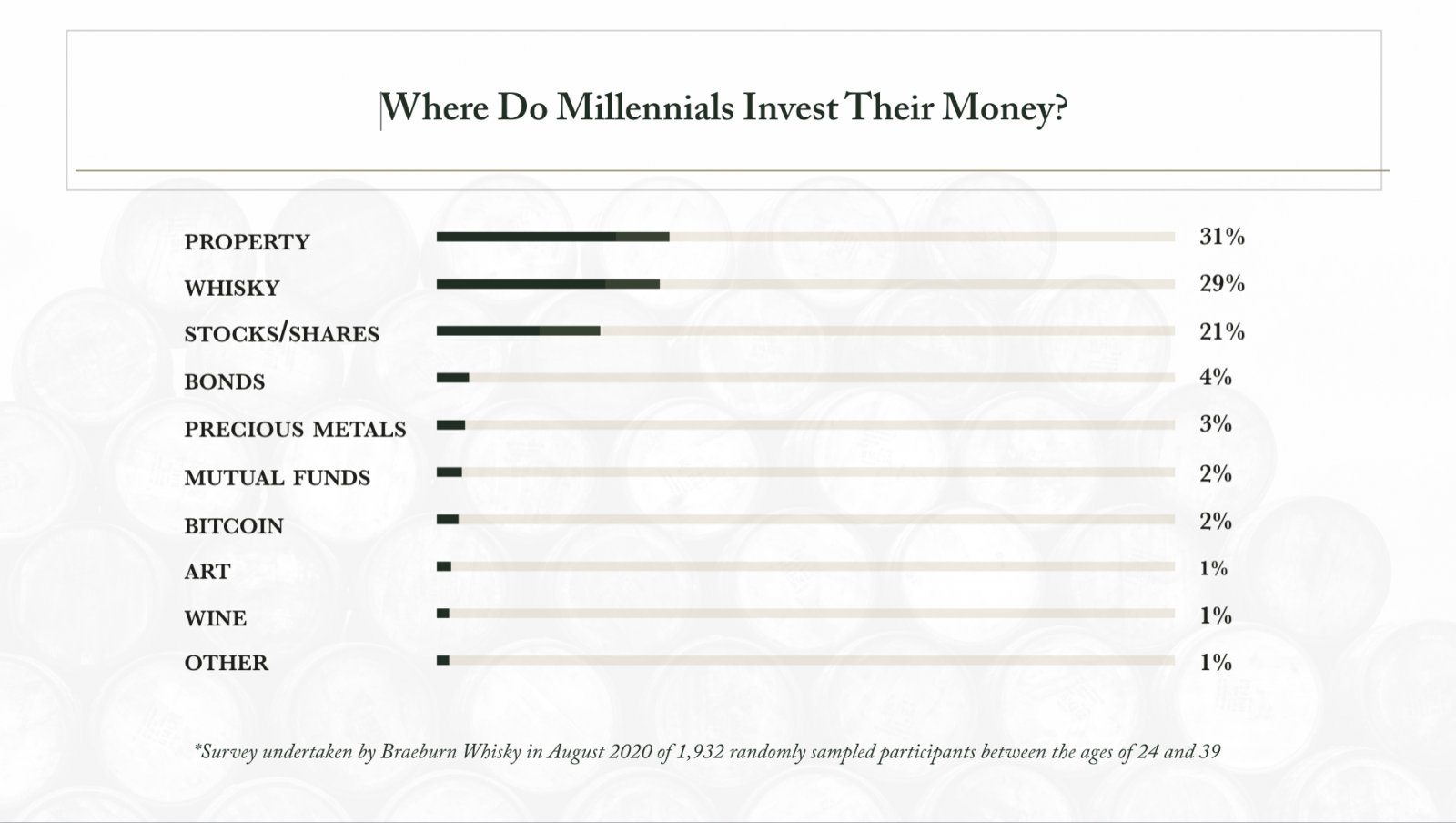 When it comes to property and whisky casks, demand tends to outstrip supply. Both are limited assets with prices driven by their rarity (property, from the most prized locations in city centres or tourist hotspots; whisky casks from the top distilleries). In fact, rare whisky casks are even more limited: homes continue to be built, but once the oldest casks are bottled, there won't be any more available for investors to purchase.
While historically low interest rates have driven the property market to boiling point, the market for whisky casks has maintained a remarkable stability, which is an extremely attractive attribute in turbulent times.
Price and accessibility can also be 'deal breakers' for younger investors. The rising cost of housing is becoming an increasing challenge for younger generations. Stricter rules around the concession of mortgages since the 2008 financial crisis have also impacted the ability of investors to get on the first step on the property ladder. This could be another reason why whisky casks, are now sparking the interest of this generation. The whisky cask market is showing an increasing interest in young and new-make casks, a sure sign that investors are interested in both lower price points and much longer term investments.
Although 'flipping' properties was considered a good strategy in the days of the property boom, most real estate investors are now taking a long view for their investments. This is certainly the case for whisky cask investors as well. The value of whisky casks rise steadily as the liquid matures in the cask, with most investors preferring to wait patiently for their casks to reach optimum price points after a minimum of six years.
Investing in times of Covid-19
The impact of the pandemic on the real estate market has been uneven. Most global housing markets saw little impact, or even rises in housing values during the pandemic. Other markets saw falls, with the scale and duration of the impact of the crisis on house prices highly unequal and essentially contingent on locations, the spread of the disease and evolving rates of new cases.
Whisky casks were also largely unaffected by the economic instability caused by the pandemic. During the first months of the pandemic, many investors decided to move out of the stock market, spooked by big falls in some traditionally strong sectors of the economy. This led to a move to tangible assets like gold or whisky casks, deemed safer in times of economic instability. The recovery saw movements back to the stock market, but interestingly, the whisky cask market has been unaffected by this return to more traditional investment strategies. Gold, on the other hand, has seen a decline in recent months.

Although vaccines herald the end of Covid-19, the way we work, shop and socialise has changed significantly and, with the arrival of inflation, interest rates will have a significant impact on the property market. Whisky casks might provide a good hedge against inflation for those with real estate assets in their portfolio.
Buiding a robust portfolio
One thing that millennial investors have learnt is the importance of diversification. More tech-savvy and perhaps better informed than some older investors, millennials are increasingly using mobile apps and other new ways to invest. They are also thinking about better ways to spread their risk, and are more open to non-traditional investments.
While choosing to take a risk with cryptocurrencies or stocks, they may decide to protect their portfolio by also opting for more stable investments like property or whisky casks. Whisky casks can fulfill that role: a safe investmentwhose value is not impacted by changes in the market due to social, economic or political factors.
For those able to enter the market, property can be an important aspect of any solid investment portfolio. However, putting everything into real estate may not be a wise idea. As we have experienced over the last few months, even the most solid investments are vulnerable to outside forces and economic shocks. This appears to be the thinking behind the growing popularity of whisky cask investment among millennials as a complement to their real estate portfolios.