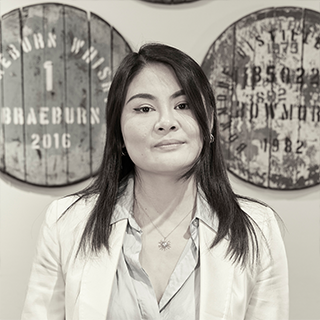 Monica Cui
Business Development Manager Asia
Monica Cui was born in Qing Dao China, but has been based in Barcelona for 7 years. Monica is responsible for building our thriving Asian business, developing Braeburn Whisky across this diverse and dynamic region. After studying communications and working for the media, including a stint on Chinese TV, Monica came to Spain to find herself and do a Master's degree. She says she was attracted to the culture and the "beach life". Monica soon moved into the Real Estate business, growing a successful career as a sales director, leading a team based in Spain, Portugal and Greece. During that time, she built a strong network of Chinese contacts, which has helped in her current role.
When she's not busy providing cask investment opportunities for our Asian clients, Monica likes to travel to broaden her horizons and sample the local cuisine. Her dream dram is a pricy Japanese Karuizawa, but she's also partial to a more humble Caol Ila served on ice.