04/07/2023
Braeburn Whisky News
BRAEBURN'S NEW HOME IN THE BIG APPLE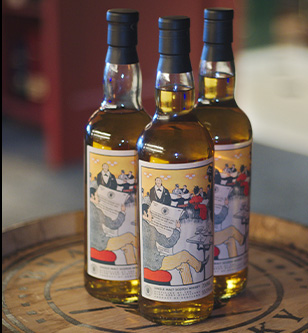 Braeburn Whisky opened its New York office with a special event that welcomed guests to discover the company's US HQ, meet the team and sample some delicious whisky cocktails and drams from Scotland's regions.
Situated in the heart of Manhattan, Braeburn Whisky's New York Office is an informal space designed and furnished by Industry West, with views over Central Park at one of New York's most iconic locations. The office features a whisky tasting bar, whisky casino and space for clients to relax and enjoy Braeburn's famous hospitality, while discussing the benefits of whisky cask investment.
"It was a special moment to open this office in New York and welcome our first guests. At Braeburn, we always aim to offer our clients a true whisky experience —and our beautiful new home next to Central Park certainly does that. I'm looking forward to  hosting many more events here in future", said Samuel Gordon Managing Director. Braeburn Whisky USA.
The event was attended by journalists, whisky experts and guests who were curious to learn more about Braeburn and experience the company's mission to make whisky cask investment an experience in more ways than one. Guests were introduced to the Braeburn team and toasted the newly opened space over a dram.
To celebrate this special moment, Braeburn also released a special whisky bottling:  a cask strength single malt bottled at the Glen Spey distillery. The design of the bottle is inspired by the spirit of New York's Golden Age, a homage to the city's dynamism and growth to become the world's most important cultural and financial centre at the end of the 19th Century.
With an operational heart in Scotland, and offices in international locations in Europe and Asia, Braeburn Whisky is now offering clients in the US the opportunity to discover the benefits of whisky cask investment. The opening of the company's new home in New York represents a key moment in Braeburn's international expansion.
If you would like to visit Braeburn's New York Office please request an appointment here.
Back To The News